LASER EYE CORRECTION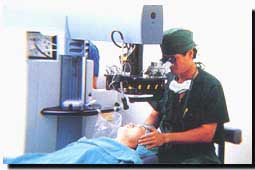 Thai hospitality is renowned around the world. It's a fact of which Thais are very proud.
The quality of hotels and the standard of service are equally famous.
What is not known however, is the exceptionally high standard of Thailand's private hospitals. They are adding a new dimension to Thailand's tradition of hospitality.
Overseas trained doctors, highly qualified multi-lingual medical staff, the latest technology; you will get a pleasant surprise to find how low the fees are when compared to similar services in Australia, America and Europe.
Enjoy a break in exotic Asia, see the sights around Bangkok,
have your eyes laser -corrected.
Packages include return economy air ex Aust, 7 nights first class accommodation with breakfast, airport transfers, consultation and eye examination, lasik eye correction on both from AUD$4870 pp twn sh (AUD$1899 pp twn with no treatment)
Accomodation choice available