LAOS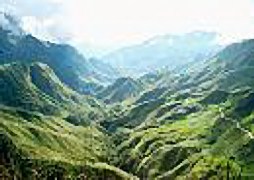 LAND OF A MILLION ELEPHANTS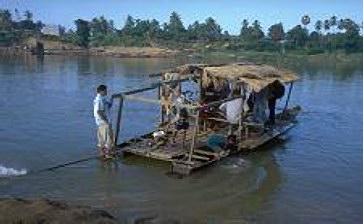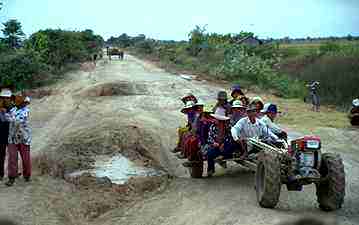 12 day eco adventure ISAN/ SOUTHERN LAOS
LIMESTONE RIVER ECO ADVENTURE
(Khammouane Limestone Range - Hin Boun National Biodiversity Conservation Area)
Visit: Khong jiam, Phra Taem National Park, Ubon Ratchanthani, Chong Mek markets, Khong Island, Kone Phapeang & Li Phi Waterfalls, Wat Phou ruins, Pakse, Boloben Plateau, Dan sin Say Plains, Kiat Ngong, Khammouane Limestone National Biodiversity Conservation Area, Teun Hin Boon, Nakorn Phanom, Tha Keak.
13 days ex Australia AUD4320 pp twn sh inclusive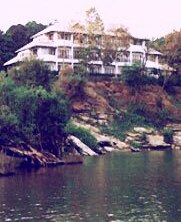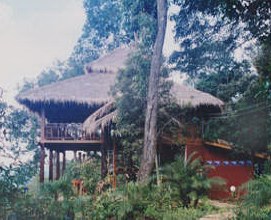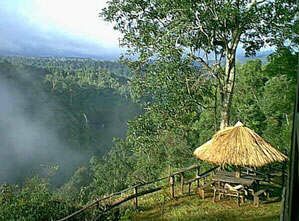 Khammouane province contains two vast wilderness areas known as the Khammuane Limestone National Biodiversity Conservation Area and the Nakai - Nam Theun National Biodiversity Conservation Area.
The capital of Khammouane province is Tha Kek, across the Mekong from Nakhon Phanom in Thailand.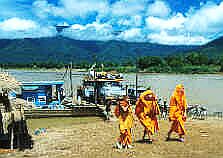 The Kahmmuane Limestone Range (Hin Boun National Biodiversity Conservation Area) is a maze of limestone karst peaks forming a stone forest of caves, rivers and pristine jungle.
Other attractions:
The Bolaven Plateau is a beautiful area, famous for its coffee At the Tad Fane Resort the cuisine is varied, the views great and the quietness is heaven.
The ghostly ruins of Wat Phou lies 8km from the lazy Mekong River town of Champasak. In contrast to the Khmer ruins found in Thailand, the rubble of a once glorious structure litters an unspoilt and absoluely stunning setting. Wat Phou is a highlight of any visit to Southern Laos.
The Wat Phou festival held in February is a fabulous time to visit.
Don Bet and the larger Don Khong are two extremely beautiful islands in the Mekong Despite being river rather than coastal islands, they still feel like true 'tropical islands' with all the laid-back cliches and palm trees that you could wish for. Some people stay here for weeks in much the same way that the Thai islands attract 'long termers'.
Sala Done Khone is the island's luxury accommodation, an atmospheric colonial house set in lush gardens
Khon Phapheng Falls are the biggest falls in Asia, but only in terms of the area they cover: there are no huge vertical drops, rather just an impressive low-level surge of water which covers the whole river.
Tha Khaek is a dusty town, rarely visited by travellers. However the atmosphere is great here if you take the time to hang around - most people's impression of a nothing-kind-place comes from the fact that they only stop here for lunch or snacks on the way to or from Savannakhet.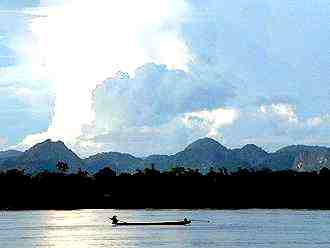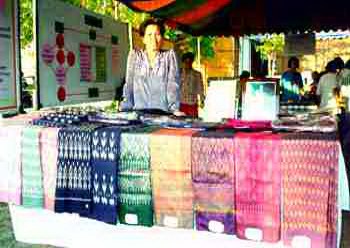 Threats to Biodiversity
Shifting cultivation, fires, uncontrolled hunting and fishing, and unsustainable logging practices all represent serious conservation problems in Laos. Probably the major current cause of actual deforestation is some upland shifting cultivation systems which involve conversion of primary forest areas and continuous, intensive cultivation and repeated fires. In addition, the planned system of dams and reservoirs for power and irrigation purposes will result in many currently wild areas being opened up by roads with valuable habitat and animal migration routes submerged by reservoirs. Trade in wildlife has become a serious issue with major routes developing to China both directly and through Vietnam. Monkeys, lorises, pangolins, snakes and chelonians are particularly affected.
PBTMS World Tours -Supporting Responsible World Tourism since 1997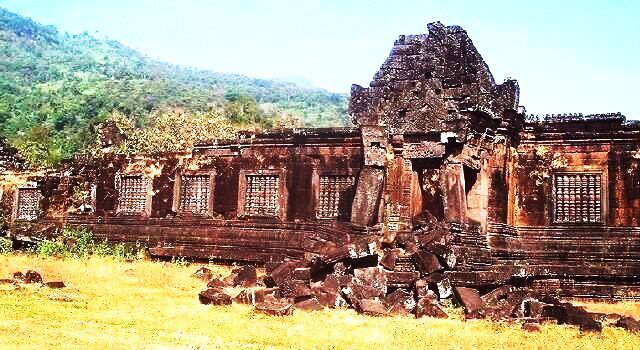 12 day OVERLAND ADVENTURE TO PAKSE
includes the ruins of WAT PHOU - packages from AUD$4950 pp twn sh
10 day CLASSIC LAOS TOUR includes BOUN OK PHANSA FESTIVITIES.
Package from AUD$3999 pp twn sh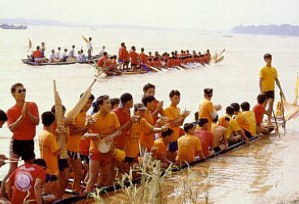 Held on a full moon in September, the Boun Ok Phansa celebrates the end of Buddhist lent and the rainy season. It is a beautiful event with candle lit processions, where thousands of banana floats with candles are set adrift on the Mekong River and spectacular boat races, each vessel with crews of over 50 men and women are part of the activities.
VIENTIANE TO HANOI OVERLAND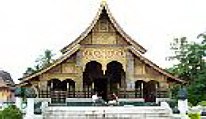 12 day all inclusive package from AUD$4999 pp twn sh
VIENTIANE TO KUNMING OVERLAND
12 day all inclusive package from AUD$4999 pp twn sh
THAILAND TO VIETNAM VIA SOUTHERN LAOS
coming in 2005
The country has one of the most pristine ecologies in South East Asia with about half of its woodlands consisting of primary forest, in particular tropical rain forest. In addition to this fascinating vegetation, Laos plays host to a diverse animal kingdom. Several exotic mammals are endemic such as leopard cats, the Javan mongoose, goat-antelopes, rare species of gibbons and langurs, the Malayan sun bear, Asiatic black bear, gaur and others. In southern Laos, near Khong Island, Irrawaddy (Ayeyarwady) dolphins inhabit the Mekong river and these though living in mainly fresh water are classified as saltwater mammals and they too are on the endangered list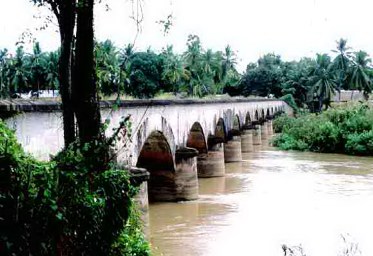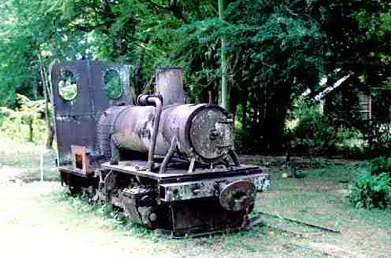 The only railway (ever) in Laos
Hans Hufnagel reports on a late 2003 visit:
The most southern province of Laos is named Siphandone. This means 4000 islands. The name was given to this region because the Mekong river here is split into many arms with a total width of 14 kilometers. These arms surround more than 4000 islands. Then the river falls about 10 to 15 metres in a series of rapids which cannot be passed by shipping. This was the reason why the former French colonial administration built a narrow gauge railway over the islands of Don Det and Don Khone (Don = island). Don Det is situated on the upper side of the rapids, Don Khone at the lower. The islands are connected by a concrete viaduct with a length of 170 meters, width 3 meters and a weight of 100 tons (data taken from an old map ). The line was built with a gauge of 600 mm and had a length of about 7 km.
Still today you can see the trackbed, small bridges and many parts of the rails connected with steel sleepers. Also the big unloading installation and the pier have survived
Near the viaduct, the place of the former shed can be recognised and the remaining parts of a 0-4-0T, built by O&K can be seen.