PBTMS WORLD TOURS
|
home

UBON RATCHATHANI CANDLE FESTIVAL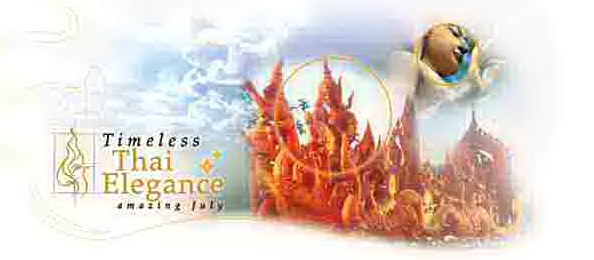 NORTHEAST THAILAND - I-SAN IS STEEPED IN HISTORY AND ANTIQUITY.
Visitors can discover dinosaur remains, ancient civilisations, imposing ruins, shrines and age old temples.
The I-San region presents an opportunity to learn of cultures different from mainstream Thailand, taste a new style of cuisine, delight in the wonderful mudmee silks and many fascinating traditional handicrafts.
The Northeast is a vast plateau bordering Laos and Cambodia, intensely rural and largely untouched by modern development. The region is an exploration of enduring tradition preserving images of a glorious past in prime areas of archaeological and historical interest.
A thousand years ago, I-San came under the sway of the Khmer and these masters of art and architecture erected numerous temples. Dating from the late 10th and 11th centuries, the temples are in t he distinctive Khmer form of prasat - a cruciform sanctuary topped by a phallic tower known as a prang and symbollic of the mythological realm of the gods.
The largest of the region's Khmer temples is at Phimai, 60km north of Korat. Dating from the 11th century, the original settlement at Phimai occuped an artifical island on the Mun River and a number of remains are scattered about the present town.
The second major site, located 120km east of Korat, is Prasat Phanom Rung. The temple complex is well preserved and fully restored. From its spectacular hilltop site, there are panoramic views of the Korat Plateau and the Dongrek Mountains that form the border with Cambodia.
Both sites are included in all PBTMS I-San tour packages (also Surin Elephant Round up, Ban Chiang Celebration, Ubon Ratchathani Candle Festival, Phimai Long Boat Festival, Khon Kaen Silk Fair).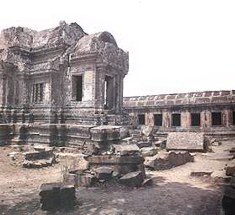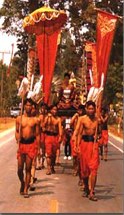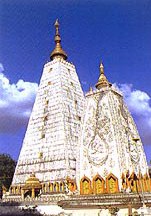 10 day UBON RATHCHATHANI CANDLE FESTIVAL includes Bangkok, Khai Yai National Park, Phimai, Phanom Rung, Prasat Viharn, & Surin
AUD$3350 pp twn sh ex Australia US$1550 pp twn sh ex Bangkok
Khao Phansa is the time when all Buddhist monks must stay in their temples.
This festival is unique and highlights the talented skills of local artisans as well as displays of religious devotion.
Elaborately carved beeswax candles of various sizes and shapes are exhibited in high-spirited processions around the city before being presented to local temples.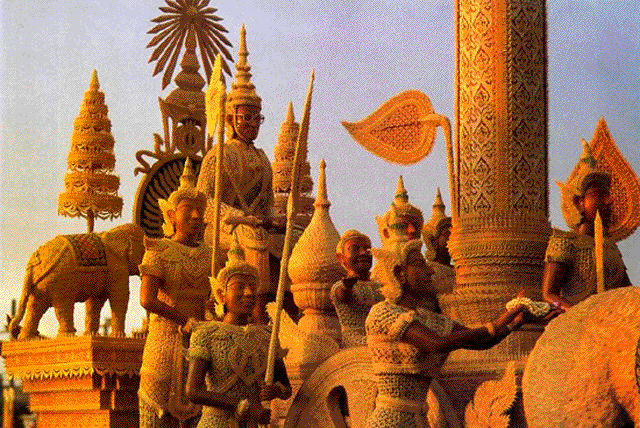 PAST UBON RATCHATHANI in ISAN NORTHEAST THAILAND
Relax in traditional serenity and lush natural beauty on the banks of the Mekong River at the unique TOHSANG KHONGJIAM RESORT. Riverside floating restaurants, ancient hilltop temples, pre historic paintings and the experience of life in rural I-San - enjoy the friendly atmosphere of another world.
Click here
.