CHIANG MAI FOOD FESTIVAL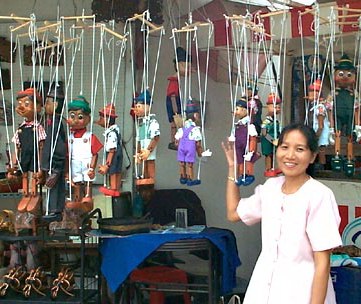 Internationally renowned, the unique tastes of Thai food, especially the northern fare, are enhanced in this annual festival held in December.

Highlights beside wonderful cuisine include, fruit and vegetable carving, enchanting Lanna cultural performances, colourful displays and a lively festival atmosphere.

Main events are centered around the Tha Phae Gate and Suan Buak Hat areas in the city.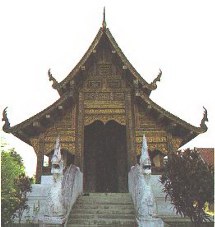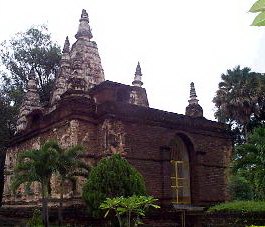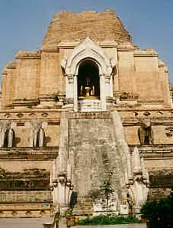 Chiang Mai is a city built on the roots of a traditional heritage that digs deep into the soil of time. It's a city with a beautiful cultural personality of its own. In addition, it's been blessed with much majestic beauty in nature. The people themselves are an unforgettable part of Chiang Mai. Handicrafts of silk, silver and wood are timeless.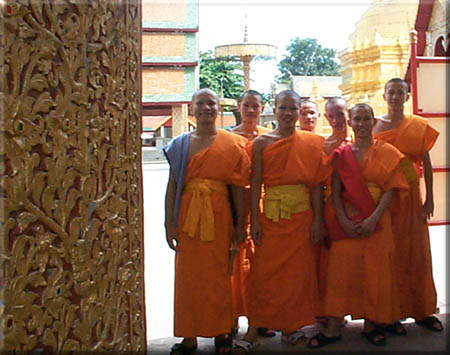 With their Buddhist background, Thais shunned the use of big chunks of meat from large animals. Big cuts of meat were shredded and laced with herbs and spices. Traditional Thai cooking methods were stewing and baking, or grilling. Chinese influences saw the introduction of frying, stir frying and deep-frying. Culinary influences from the 17th century onwards included Portuguese, Dutch, French and Japanese. Chillies were introduced to Thai cooking during the late 1600s by Portuguese missionaries who had acquired a taste for them while serving in South America.
A proper Thai meal should consist of a soup, a curry dish with condiments, and a dip with accompanying fish and vegetables. A spiced salad may replace the curry dish. The soup can also be spicy, but the curry should be replaced by non spiced items. There must be a harmony of tastes and textures within individual dishes and the entire meal.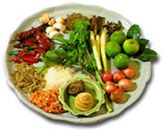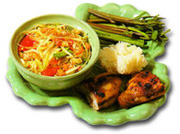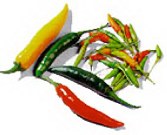 Rising recognition of Thai cuisine is due to the fact that most western people today are more health-conscious.
Thai food is lighter. Moreover, the herbs and spices used as common ingredients have medicinal properties. Some of them are good for digestion while some have benefits to drive away your fever and clear your throat.
The most important thing to remember about Thai food is to appreciate its lightness, its heat and its passionate smell long before it arrives at your dining table. Herbs used in Thai food have a dissimilar scent from western ones. They are much more aromatic and yield different flavors in each Thai dish.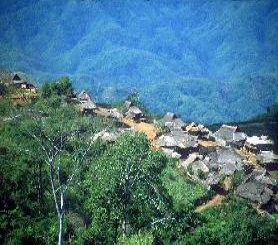 With an abundannce of mountains, forests, and valleys, Chiang Mai has much to offer in the area of nature. Almost countless numbers of waterfalls, caves, mountain peaks, and national parks can be found in the areas surrounding Chiang Mai city. The Chiang Dao Cave and Brichinda Cave; Hom Pok, Angkhang, and Inthanon Mountains Aob Luang; Huay Nam Dung Mae Klang and Wachiratarn Waterfalls the hot springs of Sankampaeng; and the Huay Dterng Tao Lake are only a few of the natural attractions well-worth visiting.
12 day
'Something different in Thailand'
CHIANG MAI CITY & RURAL SURROUNDS
All inclusive package from AUD$3499 pp twn sh ex Aust. Package available ex Bangkok.
Includes sightseeing in Chiang Mai, the Ping River Valley, the village of Hot, the city of Lamphang and the village of Lamphun.
See the spectacular Do Saket temple, Wat Phra That Doi Suthep, Chiang Mai 'Old City', the magnificent Wat Phra That Lampang Luang fortress, Lamphun National Museum.
Visit the colourful night markets, the handicraft villages of Bo Sang & San Kamphaeng, the Young Elephant Training Camp, Thung Kwain Forest Market, the spectacular Pha Thai Caves and the Wat Phra That Haripunchai Temple.
Enjoy a traditional Thai massage, picturesque waterfalls, breathtaking rural views, the Kamphaeng hot mineral springs, a riverside night market, beautfiul silks and interesting ancient ruins.
Chiang Mai celebrates many annual festivals. Three are particulary lively and lovely. These are the
"Flower Carnival"
, the first Friday, Saturday and Sunday of every February: "Songkran", 13-15 April each year; and "Yee Peng" on the full moon day of the twelfth lunar month, generally mid-November.
The Flower Carnival celebrates the period when Chiang Mai's temperate and tropical flowers are in full bloom and is characterised by colourful floral floats and parades.
Songkran celebrates the traditional Thai New Year. Chiang Mai celebrates Songkran with special elation in a 3-day caruousel of religious merit-making, pilgrimages, beauty parades, dancing and uninhibited, good natured water throwing.
Yee Peng is Thailand's loveliest festival when, under the full moon, banana-leaf boats bearing a lighted candle, incense, a flower and small coin to honour water spirits and purge the past year's sins, float away onto rivers, canals, lakes and streams.